Sorry for being away for so long... Been busy with my work and other stuff...

Found a good article that allows you to capitalize on the US housing boom by targeting the Chemical Industry instead. Find out more below...
The Best Way to Play the Housing Recovery
By Frank Curzio, editor, Small Stock Specialist
Friday, December 21, 2012
The housing recovery has created a powerful tailwind for homebuilders…

It's difficult to find a better-performing sector. Over the past year, the average homebuilder stock is up over 80%. That's about five times higher than the S&P 500 index.

My friend and colleague Steve Sjuggerud nailed the big uptrend in homebuilders. He told DailyWealth readers

to buy the sector in November 2011

. If you followed his advice, you're probably sitting on huge returns today.

After such a strong rally, homebuilder stocks are expensive, and I wouldn't recommend them at these prices. But there's a better, cheaper way to make money as the housing recovery continues…

Homebuilder stocks have outperformed the S&P 500 more than five-to-one because we're finally seeing a recovery in most major U.S. housing markets.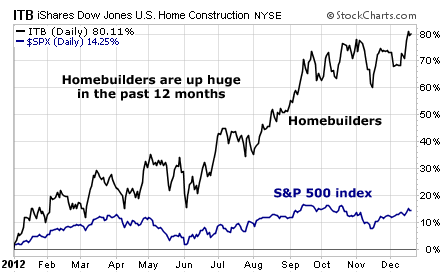 Prices have risen for nine straight months, while the inventory of homes has fallen for the last five months. There is only a five-month supply of homes on the market. That's a sharp decrease from a year ago, when the supply of homes stood at 11 months.

I expect the housing recovery to continue. The Federal Reserve has said it will do everything in its power to keep interest rates near historic lows. That's good news for homebuyers looking to take out a loan. Plus, most of the major banks are sitting at 52-week highs. They're in much better shape to lend money than they were during the credit crisis of 2008.

However, based on the recent surge in homebuilders, I don't suggest buying these stocks today. The Dow Jones U.S. Construction Fund (ITB) is trading at an expensive 27 times earnings. A better way to play the recovery in housing is to buy chemical companies.

Chemical companies make products found in building materials, paint, carpets, and tiles. Most companies in the sector are trading near 52-week highs. However, unlike the homebuilding stocks, these companies are still cheap.

Dow Chemical, E.I. DuPont, and Ashland trade at 12 times earnings. That's a 15% discount to the average S&P 500 company. Small-cap names like Huntsman and Stepan Company are trading below 10 times earnings – and also pay a dividend.

Chemical companies are also seeing a boom in earnings as raw material costs come down. The prices of natural gas liquids (NGLs) are trading near 10-year lows due to the boom in natural gas drilling. NGLs include propane, butane, and ethane. These key materials are used by chemical companies to make everyday products, like the fuel many folks use for their backyard barbecues (propane).

If you are looking for an alternative way to play the recovery in housing, forget the homebuilders for now. These stocks could fall 20% each and still be overvalued.

I suggest buying chemical companies. Most of them are seeing huge earnings growth. They're also still dirt-cheap. I wouldn't be surprised to see 25%-plus gains in these names over the next six to 12 months.