Kissinvestor Input:
Got this Article by some email subscription... I find that its really a good way to earn some side income while the market is whip-sawing now... So here it goes:
Why This Is Our "Greatest Wealth Secret"
By Amber Lee Mason and Brian Hunt, DailyWealth Trader
Monday, July 23, 2012
We call it "S&A's greatest wealth secret"…

It's

selling puts on high-quality, dividend-paying companies

when they suffer a temporary setback. It's one of the world's safest ways to trade. And once you get familiar with how it works, it's as easy as clicking your mouse.

If you're looking for a high-income trading strategy, you won't find one better than this. Here's how it works…

When you sell a put, you get paid to agree to buy shares of a stock at a set price by a set point in time. When you use this strategy on beaten-down blue-chip stocks, you almost can't go wrong.

Take our trade on Procter & Gamble (PG), for example…

Procter & Gamble owns dozens of ubiquitous household brands, including Tide, Gillette, and Charmin. Twenty-five of those brands each generate $1 billion or more in sales every year. The company uses all that cash to support a rock-solid dividend (it now yields 3.5%) that has grown every year for more than five decades.

Over the last couple years, shares of PG have waffled between about $60 and $66. But stock market weakness last month pushed shares toward the bottom of their range.

We took that opportunity to tell our DailyWealth Trader readers to sell puts on the stock. They agreed to buy shares at $60 between then and October. In exchange for making that agreement, they collected $2.65 per share.

Their "cost basis" if they had to buy shares was $57.35 (the $60 they agreed to pay minus the $2.65 they collected). The last time Procter & Gamble spent any time below that price was back in 2006. And buying at that price would lock in a 3.9% annual dividend. The yield hasn't been that high since the late '80s.

As you can see in the chart below, PG staged a big rally off those June lows. Shares have popped 7% higher since we wrote up the trade…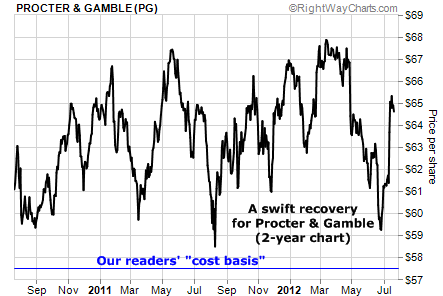 If this rally reverses and shares end up below $60, our readers will own Procter & Gamble at an incredible price. But right now, it seems more likely they'll walk away with their $2.65 "dividend" and never have to buy shares.

Just like any organization, a huge company with great brand names and growing cash flows will suffer short-term setbacks. When these setbacks arrive, shares sell off and get cheap.

That's

when put-sellers can come in and collect safe cash payments

. The upside is you collect instant cash, the downside is you buy an elite company for a good price.

That's why it's one of our greatest wealth secrets.

Hope you like what i have just shared and can do me a favour by "Like"-ing my facebook page at www.facebook.com/kissinvesting. Thanks & HUAT AH!