It's a well-written article comparing Gold Stocks (Index) to the price of Gold. Can take a look..



Another "Once in a Decade Buying Opportunity"
It was another tough year for gold-stock investors.

With stocks up 12% and gold up 5% last year, you might think gold stocks enjoyed a solid year in the plus column, too… But you'd be wrong.

Gold stocks, as measured by the AMEX Gold Bugs Index (the HUI), were down 15% in 2012. That poor performance follows on the heels of a 10% loss in 2011. So after two years of dismal returns, investors are once again tossing out the bargain-priced gold miners and giving the rest of us another "once in a decade" buying opportunity…

It's not supposed to happen this way. Obviously "once in a decade" opportunities are only supposed to come along, well, once every 10 years or so. But we already had one of these moments in gold stocks last year.

Last May, gold stocks were trading at their cheapest value relative to gold as they had been at any other time in the past decade – except for the October 2008 financial crisis. Anyone who took advantage of

the setup I noted at the time

could have made up to 40% in just four months.

The same condition exists today.

Take a look at this chart comparing the HUI to the price of gold…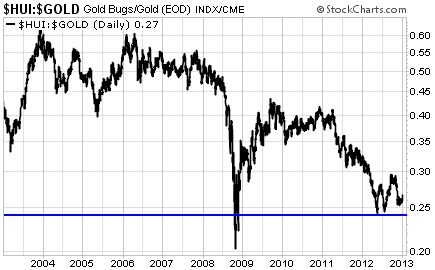 The chart is nearly back down to where it was last May. Mining stocks are dirt-cheap again.

Yes, they can get cheaper from here. But the reward far outweighs the risk at this point. After all, many of the big names in the mining sector are trading at single-digit price-to-earnings ratios and are paying dividends of more than 2.5%. (Compare that to the S&P 500, which trades at 14 times earnings and yields just 1.8%.)

Foolish investors are making a mistake by selling their gold stocks here. Now is the time to buy. If the sector performs as it did following last year's "once in a decade" buying opportunity, mining stocks could be sharply higher just a few months from now.